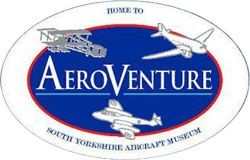 Dakota Way, Airbourne Road, Doncaster, South Yorkshire, DN4 7NW, United Kingdom
A great day out for families and enthusiasts alike the South Yorkshire Aircraft Museum exhibits a collection of aircraft from the first airshow in Britain at Doncaster Racecourse in 1909, to modern fast jets and civil light aircraft. With aircraft which are unique in preservation, alongside a whole host of familiar favourites, and cockpits and interactive exhibits open all year round there really is something for everyone.
Hours of Operation
Tuesday to Sunday 10am- 5pm during British Summer Time and 10am-4pm through the winter.
During school holidays the museum is open 7 days a week and is also open on bank holidays.
Entrance Fee
Adult £6, Children (5-16) £2.50, Senior Citizen £5, Family £13.50