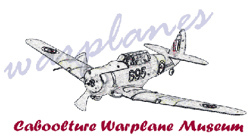 104 McNaught Rd, Brisbane, QLD, 4510, Australia
The Caboolture Warplane Museum has been established to present and preserve part of the nations history with a focus on WW11 aircraft.
The Museum,s concept is unique in that it is a flying museum. our aircraft have been restored to flying condition and perform regularly in air shows and aviation events around the country.
Our flying warbirds consist of,
P51D Mustang VH-MFT

CAC Wirraway VH-MFW

CAC Wirraway VH-WWY

Nieuport 17 VH-NIE
Apart from the operational aircraft, the Museum has an extensive range of displays and exhibits depicting much of Australia's flight heritage.
These include a large range of aircraft engines of various kinds, considerable wartime memorabilia, displays depicting famous aviation accidents and tragedies such as the Stinson rescue and the Lincoln crash at Mt. Superbus.
Hours of Operation
Open daily 9am.-3pm.
Not open Good Friday, Christmas day, Boxing day or New Years day.
Entrance Fee
Adult: $10.00, Child (5-14 years): $5.00, Family pass (2 adults, 2 children): $20.00, Seniors: $5.00