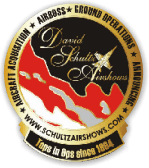 Clearfield, PA, United States
Since 1994, our team of Airshow Professionals has provided locations worldwide with airshow services, including Professional Airshow Air Traffic Controllers/Airbosses, Ground Operations Specialists, Announcers, military & civilian aircraft acquisition, website development and maintenance, FAA/DOD/TFR paperwork coordination, Airspace Management, computerized ramp layouts, flyby coordination, and a whole host of other services that no one else in the business can provide.
We specialize in daytime airshows, twilight/night airshows. and flyovers at airports, military bases, parks. raceways. and beachfronts all around the world. Our company has over 300 years of combined aviation and airshow experience that is SAFE, proven, reliable, and dependable. Our professionalism and diversity is what makes our company "Tops in Ops" in the minds of military bases, civilian airport authorities, FB0s, military jet teams, and airshow performers worldwide.
We have 4 Professional Airshow Air Traffic Controllers/Airbosses, 9 Ground Operations Specialists, 2 Announcers. 2 photographers, and an administrator on payrolled staff to assist you in your aviation event. Each one of our professionals are there to make YOU look good and to conduct and assure you of a safe and entertaining event.