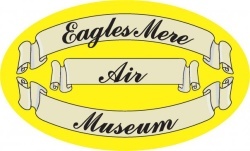 Merritt Field Airport, 100 Merritt Field, Laporte, Pennsylvania 18626
The Eagles Mere Air Museum is located at Merritt Field (4PN7), a private airport about 2 ½ miles east of Eagles Mere, Pa. (17731) on Pa. State Route #42. The museum houses a living collection of airplanes, airplane engines, and related toys and artifacts from the golden age of flying—1908 to 1935. There are approximately 20 airplanes currently located at the field and several more in restoration nearby. Virtually all of the museum's collection flies regularly. The staff feels this distinguishes the collection from many other venues in both the functional quality of the exhibits and the fact that visitors at the right times of the year can see the planes in operation. A large number of these aircraft must be started in the old fashioned way by hand propping, and once airborne, there is nothing to compare with the sound of a 9 liter OX5 V-8 at 1450 RPM overhead.
Many of the airplanes are the only remaining flying specimens and a number of the airplanes were either the personal property and actively flown by such flying greats as Wiley Post, Roscoe Turner, Earl Doherty, Swen Swanson or they are originals of the type in which famous female pilots like Elinor Smith or Louise Thaden set world records.
Hours of Operation
Sun: 1:00 pm – 4:00 pm
Seasonal – Check website for dates and times.
Entrance Fee
Adults: $6 each Families with children under 17: $14