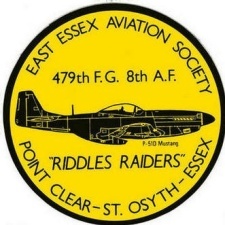 133 Colne Way, Point Clear, Clacton-on-Sea, Essex CO16 8LW, UK
The East Essex Aviation Society & Museum has been housed in the historic Martello Tower at Point Clear since its first opening to visitors in 1986.
 The Tower is one of the first Napoleonic Forts built in 1806 on the East Coast to repel any possible invasion from France and is one of the few Martello Towers still open to the public.
 The Society was formed in 1985 when interest grew locally in the recovery of a crashed American P-51 Mustang of the U.S. 479th Fighter Group that was forced to ditch in the sea off the coast of Clacton on 13th of January, 1945 with the loss of the pilot's life. The Tower was the ideal place to store and preserve the wreckage after it was retrieved from the sea.
 The remains of this aircraft now take pride of place along with a memorial display to the pilot. In addition to this, the Museum also houses a large collection of displays covering the major conflicts of the 20th century.
Hours of Operation
April – October
Sundays: 10am – 2pm
June – September
Wednesdays 10am – 2pm
If we are open on extra days such as Bank Holidays, please check our Facebook or Twitter.