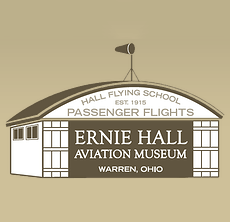 4033 N River Road Northeast, Warren, OH 44484, United States
The Ernie Hall Aviation Museum bears the name of one of America's most well-regarded aeronautical pioneers and he is regarded as a hero due to his impact on the evolution of aviation in the United States. The museum was established to not only recognize a legend in the Ohio community where he resided, but to leverage his legacy to acknowledge the contributions of other aviators in U.S. history as well. This information and education will be presented and disseminated through various avenues to people of all ages by the museum and its volunteers.
Hours of Operation
Saturdays and Sundays – 9 a.m. to 5 p.m.
Wednesdays – 2 p.m. to 7 p.m.
Entrance Fee
Members – Free, General – $5 per person, Ages 5 to 10 – $2 per person, Ages under 5 – Free