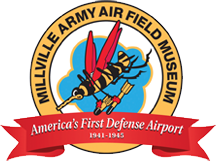 1 Leddon Street Millville Airport Millville New Jersey 8332 United States
The Millville Airport was dedicated "America's First Defense Airport" on August 2, 1941 by local, state, and federal officials. In less than a year, construction of military base facilities began, and in January 1943, the Millville Army Air Field opened as a gunnery school for fighter pilots. Gunnery training began with Curtiss P-40F "Warhawk" aircraft, but after a few weeks, the P-40s were gone, and the Republic P-47 "Thunderbolt" ruled the skies over Cumberland County. During its three year existence, thousands of soldiers and civilians served here, with about 1,500 pilots receiving advanced fighter training in the Thunderbolt.
Following the War, the airfield was declared excess to the governments needs, and returned to the City of Millville. Most of the airport buildings were converted to apartments for the many veterans returning from the war. The last of the apartments vanished in the early 1970s, and the airport soon became a hub of industry and aviation for Southern New Jersey.
Hours of Operation
The Museum is open from 10 am to 4 pm Tuesday through Sunday.