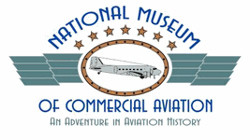 5442 Frontage Road, Suite 110 Forest Park Georgia 30297 United States
The National Museum of Commercial Aviation (NMCA) is the country's first comprehensive airline museum. Based in Atlanta, near the world's busiest airport, Hartsfield-Jackson, the NMCA is in the process of finalizing a site for the permanent Main Campus. In September of 2009, we opened the Interim Headquarters & Research Air-Chive, open to the public with nearly 6,000 square feet of exhibits and collections processing areas.
Hours of Operation
Open to the public Wednesday – Saturday 10am to 4pm. Other times by appointment
Entrance Fee
Adult: $5.00, Youth: $3.00 (4-12), Family pass: $15 (includes 2 adults and up to 4 youth).