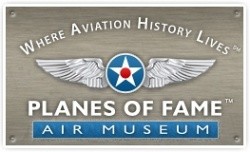 7000 Merrill Ave. #17 Chino California 91710 United States
The Planes of Fame Air Museum is an independently operated, non-profit 501(c)(3) aviation museum. It is the Mission of Planes of Fame Air Museum to preserve aviation history, inspire interest in aviation, educate the public, and honor aviation pioneers and veterans.  The Museum is dedicated to the preservation, perpetuation and exhibition of historical aircraft, and to the men and women, both famous and unknown, who devoted their lives to flight.
Hours of Operation
The Museum is open every day of the year, with the exception of Thanksgiving, Christmas, and occasional special events. Check out the Aircraft Flight Schedule before your visit.
Entrance Fee
General Admission: $11.00, Children under 12 years: $4.00, Children under 5 years: Free, Seniors ages 65+, Veterans: $10.00, AAA members (with current membership card): $9.90, Active duty military, police, and firefighters: Free