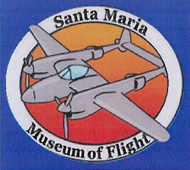 3015 Airpark Drive, Santa Maria, CA 93455, USA
To serve as preservationist of past, present, and future aerospace and aeronautical artifacts, historical documents, and memorabilia of the Santa Maria Valley and this Nation.
To provide present and future generations through numerous exhibits, research land media libraries the educational seminars and tours on the aviation history of the Santa Maria Valley and this Nation.
To promote and support General Aviation through events and seminars that encourages individuals to explore the venue of flying and safety.
To produce aviation seminars and activities for the youths residing in the City of Santa Maria and the Santa Maria Valley that will enable them to experience and explore the elements of aviation and aerospace science and technology utilized in flying.
Hours of Operation
Friday – Sunday: 10:00AM – 4:00PM
Closed for special scheduled events, Christmas, and New Years.
Entrance Fee
Adults: $5.00, Seniors: $4.00 Children: 7-11 years $2.00 / 12 – 17 years $3.00, School Tours : $1.00, College :$3.00, Tour Bus : $4.00 Military & their dependents: No charge