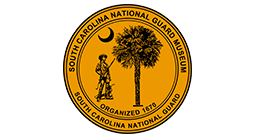 1225 Bluff Road, Columbia, SC 29201, United States
1225 Bluff Road
Columbia
South Carolina
29201
US
Located in the capital city of Columbia, the South Carolina Military Museum is one of the largest and premiere National Guard museums in the country. It's mission is to honor and chronicle the South Carolina citizen soldier and this State's martial tradition from its colonial founding in 1670 to present-day operations worldwide. Featuring an impressive collection of artifacts, displays and exhibits, the Museum tells the story of the South Carolina militia, its evolution into the National Guard, and its important role today as a force multiplier for the United States Army and Air Force.
The South Carolina Military Museum possesses a vast array of authentic firearms, edged weapons, uniforms, artillery pieces, and armored fighting vehicles that literally bring history to life. The Museum also possesses a dedicated staff and numerous volunteers who truly care about sharing the State's military history. When you walk into our doors, you'll be greeted by smiling faces and persons eager to answer your questions.
We sincerely hope you visit this great Museum and learn of the past and ongoing sacrifices made by her sons and daughters in uniform. Their history, after all, is your history and the South Carolina Military Museum is devoted to preserving this legacy for all generations.
Hours of Operation
Monday – Saturday: 10am – 4pm Sunday: Closed
Holidays the Museum is closed: New Year's Day, President's Day, Memorial Day, July 4th, Labor Day (Weekend), Veterans Day, Thanksgiving Weekend (Thursday through Sunday)
Christmas Eve, Christmas Day, and the Day after Christmas
Museum's Wish List
We are in search of an OH-6 helicopter to add to our museum. Any lead in our search is greatly appreciated. Please call Mr. Buddy Sturgis at 803-299-4440 or email at [email protected]