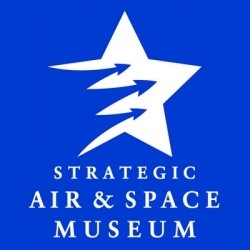 28210 West Park Highway Ashland Nebraska 68003 United States
The Strategic Air & Space Museum, located between Lincoln and Omaha near Interstate 80, utilizes over 300,000 square feet of exhibit, education, and event space to educate, inspire, and entertain its guests who come from Nebraska, across the country, and around the world.  The museum first opened in 1959 with the mission to commemorate the aircraft of the Strategic Air Command (SAC).  The museum became well-known by giving the public the opportunity to visit an impressive array of aircraft that helped SAC preserve the peace during the Cold War.
Hours of Operation
Open 7 Days a Week
May 24 – Sept 1 9:00 A.M.-5:00 P.M.
Sept 2 – May 23 10:00 A.M.-5:00 P.M.
Closed: New Year's Day, Easter, Thanksgiving & Christmas
Entrance Fee
Adults: $12.00, Senior Citizens: $11.00 (65 +), Active/Retired Military: $11.00, Children: $6.00 (Ages 4 to 12)