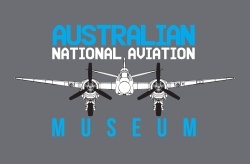 First Street and Second Avenue , Moorabbin Airport, Victoria 3194
The Australian National Aviation Museum is located at Moorabbin Airport near Melbourne Victoria.
Owned and operated by the Australian Aircraft Restoration Group, a community based, not for profit Company limited by Guarantee, the collection was established in 1962, the permanent museum opened in 1964 and is the oldest volunteer Aviation Museum in Australia.
Over the last 47 years, the museum has saved a number of significant examples of Australia's aviation heritage, and with nearly 50 aircraft on display, in storage or under restoration, and over 20 engines on display, the Museum is one of the largest in Australia.
Hours of Operation
Wed – Fri 12pm – 4pm
Sat 10am – 5pm
Sun 10am – 5pm
Also open Public Holidays (except Christmas Day) 10am – 5pm
Entrance Fee
Adult: $10, Child : $5 (children under 5 free), Family: $20, Concession / Pensioner: $5