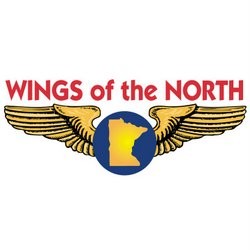 Sierra Lane, Eden Prairie, MN 55347, USA
Sierra Lane
Eden Prairie
Minnesota
55347
US
Wings of the North is a non-profit 501(c) (3) organization founded in February of 1998. Our mission is to preserve and present aviation history.
We arose from the vacuum created when Planes of Fame East Museum's aircraft relocated to California and the museum was closed for good. In its wake, several volunteers chose to ignore this setback and form a new museum. In less than six months, the group coordinated Mustang Roundup '98, a major flying event.
Long term goals include plans for a major, world class museum and educational facility in the Twin Cities metropolitan area. This will involve a tremendous amount of effort in fundraising, acquiring aircraft and memorabilia and creating displays and events for the public.
Our first event was a gathering of P-51 Mustang fighters in May of 1998. Followed by Mustang Roundup '99 and AirExpo's in the years since 2000.
The fall of 2009 we moved into our new offices at 14801 Pioneer Trail, Suite 200, Eden Prairie, Minnesota. In 2012, we purchased hangar 72D in Sierra Lane at Flying Cloud Airport where we operate Wings Restorations, the restoration arm of our group.  In 2015, we've begun leasing space to operate our new museum which is adjacent to our offices.
Wings of the North is dedicated to presenting and preserving aviation history. To accomplish this mission we put on air displays, symposiums, school presentations, as well as many other programs. To keep our mission a reality, we need your help! We are looking for monetary donations, equipment donations (copy machines, office equipment, tools, and computers), an postage to keep our operation going. We are also looking for donations of aviation artifacts such as flyable aircraft of any type, restoration project aircraft, aviation memorabilia (military aviation uniforms, wings, maps, and photographs), and hangar space.
Entrance Fee
Opening soon!